So after a good first round, we moved up on the ladder and ended up facing a team from Paris, comprised in part by members of last year's ETC team. Their lists were fine-tuned, and they had obviously had good results in their first games. The scenarios were «hold the centre» and «capture the flags», and in the end I got paired against Sylvain and his
Sylvan Elves
:
HEROES:

Druid

(

general

),

Wizard master

, 4

spells

(

shamanism

),

tree singing

,

crown of autocracy

,

dispel scroll

590

chief

,

BSB

,

longbow

, hawthorn arrows,

hail shot

290

CORE:

2x 11

sylvan archers Musician

12

sylvan archers Musician

8

dryads skirmish

,

Champion

SPECIAL:

1

forest eagle

1

forest eagle

FLEET OF FOOT

3 kestrels knights with

shield

3 kestrels knights with

shield

8

blade dancers

8

blade dancers

5

briar maidens

5

briar maidens

UNSEEN ARROWS:

10

sylvan sentinels

10

sylvan sentinels
So overall a pure
MSU
list with a very good shooting base, better magic, an abundance of
redirectors
and still decent counter-chargers in the form of the Kestrels and the Bladedancers. Not exactly the list I was looking forward to facing, especially given that the scenario was «capture the flags».
Before the game, I figured that I'd have to win the
deployment
game, use the superior shooting of the
pathfinders
to win the shoot-out and push hard with the Treefathers to get the soft
scoring
units late-game. Easier said than done; with more
deployment
drops, Sylvain dropped fast
unit
after fast
unit
, cleverly keeping his scorers for last.
The
deployment
was a game in itself, and one that I thoroughly enjoyed: I started off with the Treefathers centrally (the
deployment type
was flank attack, and I was given the role of the defender), since that meant that they wouldn't be left stranded on a flank no matter what happened. The kestrels were sent as a decoy to the west, and my opponent replied with some
dryads
right across. Then came a critical moment where I had to start dropping
scoring
units: once I'd dropped a couple of archer units (inside forests, behind a dryad screen and a good 30 inches from any potential shooters), my opponent grabbed the initiative and deployed his entire army to get the first turn. With a +3 advantage, he had a good shot at getting that precious first volley off.
In the end, the
deployment
favoured heavily my east flank, and I replied by keeping my bladedancers and the remaining archer
unit
centrally, safe from first turn volleys and in a position where they'd be able to retaliate. Good
deployment
on my opponents' part meant that the
pathfinders
were better off deep within my zone, where their truemark arrows would allow them to whittle down T3 elves with impunity.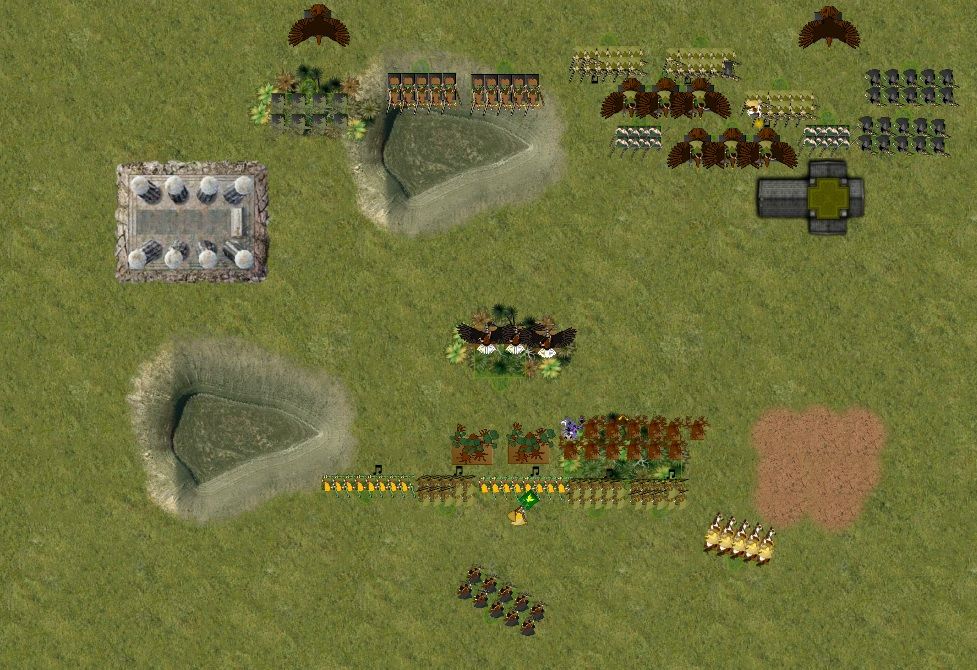 For magic I got once more the Master of Earth and the
Entwined Roots
, while my opponent got
Awaken
the Beast,
Swarm
of Insects, Break the Spirit and Totemic Summon.
Looking at the board after
deployment
, and knowing I'd probably play second, I figured the game would be an uphill struggle for the first few turns. With 6 flyers/light
cavalry
to throw between my treefathers and the archer line, my opponent wouldn't be hard pressed to engage.
So I took two gambles: I vanguarded my kestrels in a position where they'd give a flank charge to his kestrels, inside a forest, and I picked the three archer units as my targets for the secondary objective. The first one was crucial to unlocking the enemy battleline: it would draw one of the (expensive)
redirectors
closer to my lines, where they'd be able to get charged and potentially provide a nice overrun move for my treefathers. The second would free up the bladedancers to run interference, but running interference in this case would mean engaging in combat. I'd rather fight in combat than just have my opponent run in circles around me all game long.
Sylvain won the roll for the first turn, picked two of my archer units and a
unit
of dancers as his targets and the game was on!
TURN 1 – Shooty Elves
As predicted, my opponent hesitated a bit then took the kestrel bait. The rest of the army moved around a bit, with half the shooting base moving past the building and gaining hard
cover
in the process. Sylvain would exploit this to the maximum over that game, moving the
Skirmishers
and
light troops
back and forth through the building to afford them that -2 to be hit all game long.
The opening
magic phase
was a 12-dice phase, and I quickly noticed a flaw in my plan: I hadn't read my opponents' list attentively, so I failed to notice the Treesinging upgrade for the
Druid
(who buys this anyway!?). So when my opponent opened his magic with a 5-dice casting of Treesinging on the forest containing 2 units of archers, a
unit
of
dryads
and a
treefather
, I kind of felt obliged to dispel it with my dice. This allowed my opponent to cast the Totemic Summon, bringing a Totemic Beast right behind my lines.
The shooting was painful: while the archers were relatively safe from…
[Read More]