Princip, better known as 'Black Venom', spied upon the approaching

Caimans

from a forest with a wicked smile. Ignorant of his presence, they would be dead before they knew it. He came to like his new young and cunning

commander

, Lord Drakon. Fearless while patient and calm, Lord Drakon,

commander

of the XIII Legion, was a different sort of noble he usually encountered.

He had introduced the teachings of Nabh to his legion, and the last months Spartan hoplites had been recruited to drill the legionnaires to a new level of discipline and deadly force. It was this vision, genius mindset and firm belief in Nabh that had attracted Princip to this expedition towards undiscovered regions. So show his Spartan bravery to the legion, Lord Drakon had come to battle with only his underwear and his

hatred

.

Enough of this, Princip reminded himself, it is time to perform his duty. He and

captain

Khaled had to create a diversion of the left flank of the enemy forces. They had strategically fortified themselves behind a large cliff, and in order to overrun their positions, he and Khaled with his

corsairs

had to lure the fast troops of the enemy towards them. After a deep breath, Black Venom experienced a rush of ephoria, and rushed into the darkness of the forest, ready for the kill.
Introduction
After a long period of list building I am back into playing the actual game. Yesterday I faced my nemesis DeGroteBaas yet again, to get my revanche after he massacred me last battle, already several months ago. As I will be attending some small tournaments and other more serious games soon, I was eager to test out my newest list.
Friendly list
I brought:
Characters Lord Drakon

-

Cult Priest

, Nabh

Khaled the Collector

-

Captain

, Battle Standard,

M

anticore, LHAS,

Talisman of Shielding

, Beastmaster's Lash

Zlatan

-

Captain

,

Fleet Commander

,

Pegasus

, LHAS,

D

eath Cheater

Princip -

Assassin

, Bloody Murder,

Paired Weapons

,

Bloodroot

,

Midnight Cloak Core

30 Spartans, Spears, S, Academy Banner

29 Spartans, Spears, S, Academy Banner

10

Corsairs

,

Vanguard Special

10 Harpies

9 Harpies

Divine Altar,

Paired Weapons Monsters

Kraken

Kraken

Kraken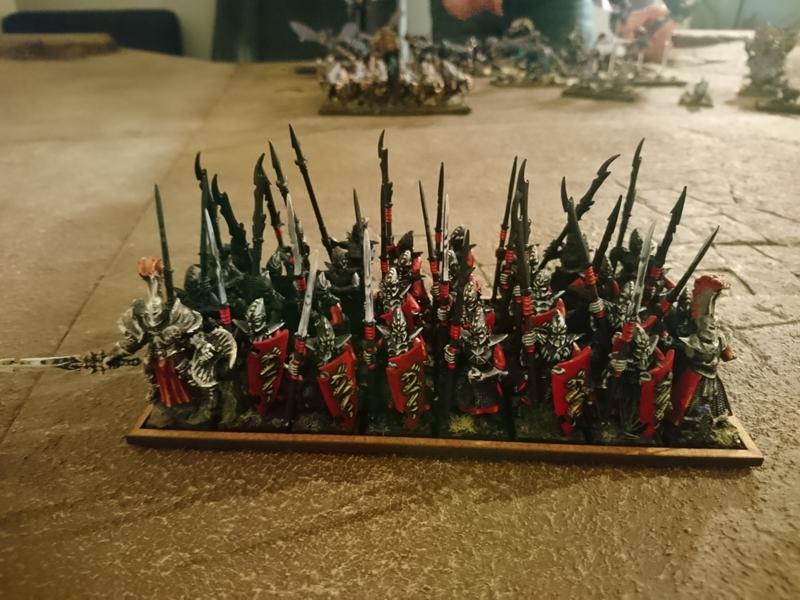 WIP Spartans with Lord Drakon (all warfare is based on deception, he is actually in his undies)
The Spartan list has evolved with the Krakens + Beastmaster
BSB
from
@SmithF
glorious conquests, while also giving it a personal touch with the 2 x 10 harpies advises by
@duxbuse
and other elements that contribute to the PULL of this list. It has no magic and no shooting, but lots of interesting characters, extremely deadly Spartan legionnaires and large terrifying Krakens. It is a powerplay list, able to rush the enemy lines, or hold certain objectives, and overwhelm the enemy.
Enemy list
The enemy brought:
This is a picture of his Saurus Ancients on a tournament so not the exact same list, but very similar.
The enemy brought his typical Saurus list, the ultimate balanced list who almost always manages to rip my own balanced lists apart. His
weapon beasts
easily kill and redirect my expensive elite
infantry
, while his Rhomphodon raiders always manage to get into my backfield, killing my bolt throwers or getting into the soft flank or rear of my Spartans. In our last battle the two units charged one of the Spartans in the rear, and went through them like hot knife through butter. He always backs up his shooty elements with strong and deadly anvils, or dangerous monsters such as the
Taurosaur
who ate my
dragon
around 5 times, and the
Carnosaur
who often wreaks havoc on the counter-charge. I often struggle a lot against his list, and he had honed his skills with this list to perfection. Nevertheless, we both were very rusty, as this was our third game this year.
Pre-game thoughts
As discussed several times earlier in my blog I developed four different tactics based on battles throughout history and will try to apply them every battle to become a better tactician. These tactics will be further developed later on in the blog with battle diagrams in theoretical articles. These tactics are:
1. The
Lance
(Penetration of the Center)
2. The Draich (Single Envelopment)
3. The Trap (Double Envelopment)
4. The Wave (Refused Flank)
This tactics are again influenced by the objectives,
terrain
, and enemy
deployment
.
We rolled for
Frontline Clash
, and
Hold the Ground
. This would become a very interesting battle due to the large mountain in the middle of the board, while the enemy had 4
scoring
units compared to my 3 units. Besides the central mountain, there were forests at…
[Read More]