The
longbow
designs did not work out well, and we have decided to drop that, at least for the time being. There
might
be other sources of longer
bow
bits available out there.
Dungeon Oddities - Dungeon Clutter
£3.99 at release.
You can find some odd things in a long-forgotten dungeon! This set expands the range of trinkets and dungeon clutter, bringing more life to your underground stone lair.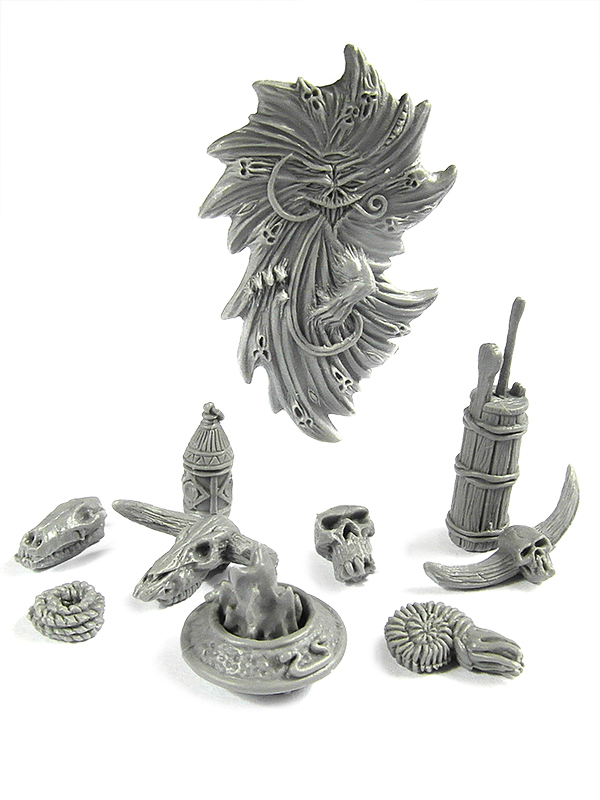 Elf Archer Sculpt
Summer has not seen much hobby work, but pace is picking up again on the archer. I hope to finish him already this month if possible.
Helmet,
bow
and boots remain to be done, and gemstones will be added into empty sockets.
For someone who has always overloaded on details it's fun to sculpt the twirly armour ornaments, yet at places they seem too busy on the miniature compared to the sketch. I've already removed a couple of
tiny
twirls from the breast area. Should the details at gut level be simplified? Are there other issues and solutions you can spot?
At this stage I'm not entirely sure on the direction, but will press on according to the concept drawing and see where it all ends up in miniature form. Perhaps everything will come together when all the details are in place, or when the first casts have been painted.
And now to share some inspirational sources behind this Elven style (more prominent on the greatsword armour sketch), parts of which comes from a few of the better Silmarillion Elf hits when browsing through Google and Deviant Art, by various artists:
Other sources are Greek and Roman designs in
general
, the usual suspects such as Corinthian helmets and Roman Galea helmets, which has informed lots of Elven designs though the years:
As well as Assyrian archers and Syrian Auxilliary archers in the Roman army with their pointy helmets and the former's half-rounded tunic bottom:
Yet most of it is fantasy, and doesn't stay very close to any particular historical style in the case of these Elves.