This particular project came about from a desire to have a uniquely shaped building to add to my town/city collection. There's many companies out there that sell the classic coaching inn or tavern models and some of them are very good. Tabletop World's coaching inn comes to mind which is excellent as is Forgeworld's now loooong out of production coaching inn. Stronghold Terrain also makes a really nice medieval inn which I do own and have built and painted.

But I wanted something that had more character. In keeping with the history of medieval architecture I wanted a building that looked like it was something that was added onto over the decades or centuries as more space was needed, etc. Anyone who has studied the subject. or some of you who may actually live in parts of the world where this old medieval architecture is all around you to see first-hand, you know that indeed most medieval towns consisted of buildings that were constantly having additions added to them, etc. And so a medieval town began to take on a very unique look about it. Structures with irregular shapes and angles, buildings jammed together and weaving between another as a new section was added.

With that in mind I set about looking for two commercially-made resin buildings that I could then convert and make them into a single, unified structure. However the trick here was that I wanted to pull off the idea that an older, original building had had a major addition built onto it. The other part of the trick was that I wanted some hint that you could tell that the two buildings were cobbled together at different times and that it was not all built as one structure but rather something that changed shape over time as ownership changed, etc.

And finally I didn't want it to look "overly fantasy" as in I didn't want it be an over-the-top look where the two buildings looked impossibly connected in some ridiculous fashion that defied gravity. It had to be something that looked believable and yet fit into the theme of the Empire of Sonnstahl.

What I finally found were two buildings from Tabletop World's medieval range: Townhouse II and Townhouse III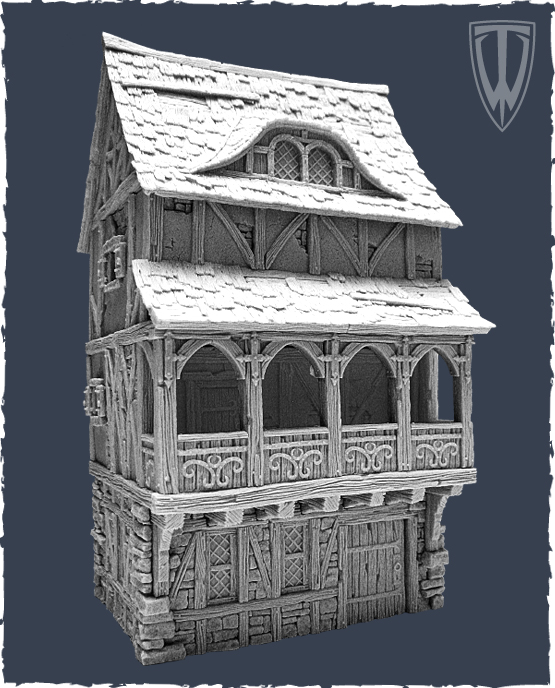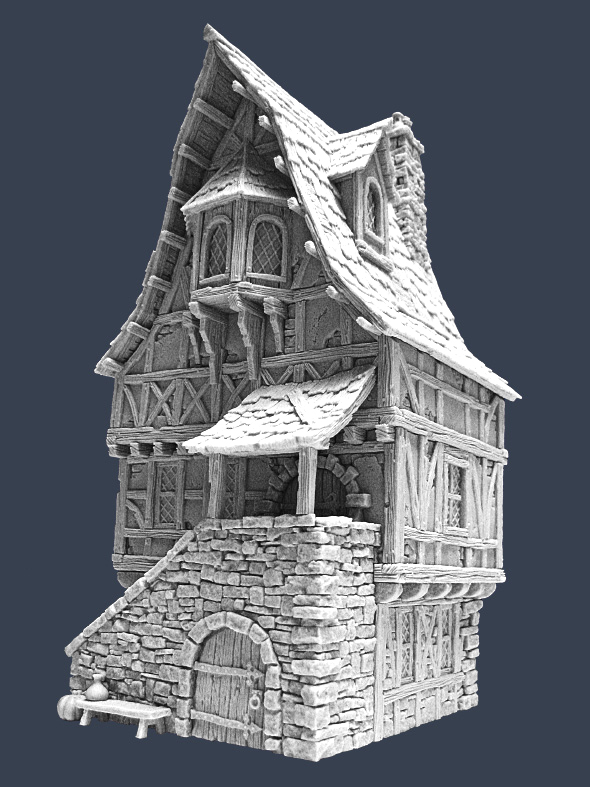 The instant I saw the shape of these two buildings I realized that together they would fulfill the look I was trying to achieve!

Now of course the first problem was that indeed both of these products are sold as separate buildings and did not fit together in any sort of designed way. So I simply took both of the buildings and thought about where the most logical place would be for these two buildings to be connected so that it looked like a convincing add-on.

After fiddling with them I decided upon the best place where they should join.

But in doing so I was now confronted with the inevitable. When pushed together as closely as possible there was still about a 1 inch gap between the buildings. This open space would need to be filled with scratch-built components to make both buildings into one structure.

I was WAAAAY into new territory with my modeling skills at this point. I had never attempted to do anything so ambitious that approached the level of like what diorama makers might do or military modelers might do. I understood and could envision what I wanted, but being able to actually pull it off where it all blended together seamlessly was another question!

So I went ahead and glued both buildings into position on a base of MDF. With the buildings in their final positions I then thought about what would work best to fill in the gap. I finally decided that pink insulation was a good bulk filler to simply fill the space so that other details could be put on top of it. I also decided that square balsa wood strips and thin cardboard would be the best materials to use for the timbers. Finally I decided that wall filler/spackle would serve well as the actual "plaster" of the walls and when painted would match the surrounding walls of the original buildings. I also chose to mimic the stone work of the buildings by cutting my own tiny blocks out of pink insulation foam.

I cut the insulation foam into rough shapes to fit into the gap and just glued them in until the space was packed with the stuff:


">
">
So far so good but I still had very serious doubts that my scratch-building skills were up to the task of mimicking the amazing detail of the resin buildings themselves! I had to simply keep adding layers and then hope that when I finally painted it all it would look convincing!

I started to add some of the cardboard and balsa wood timbers, foam blocks, and wall filler/spackle:


">

At this point I also added some additional exterior details like the crates and barrels, some scurrying rats, and a dog and cat to the porch and staircase. These were all various resin components that I got from Stronghold Terrain and other companies.

When the all the filler stuff in between the two buildings had dried and all the exterior stuff was glued down I was still confronted with another problem! Where the second floor ended the gap still extended all the way up to the tops of the roofs. I had no choice but to make some scratch-built shingles to match the existing shingles. Again I turned to thin cardboard and cut out tiny rectangles and glued them over the gap.

Looking at the project at this moment I was a little more confident that I could pull this off. I felt like I had used the most convincing materials possible to match the texture of the original buildings. It was really going to come down to the paint job and having everything come together with colors applied over it.

So I simply began painting the whole thing! I went straight across all the plaster areas painting them all in the same color so that they all blended together. Same thing applied to the roof shingles - all the same shade of green with the same highlights. The timbers all the same brown, etc.

Once I got to the point where I was doing drybrushing highlights I was astonished as to how good it turned out! I stepped back and when I looked at where I had added all the filler I was genuinely convinced that some miniature Empire citizens had indeed constructed these buildings and at some point cobbled them together and created one unified, large structure. I envisioned that inside the buildings they had knocked out the walls and put in doors and hallways so that the two buildings could be moved through as one structure.

Perhaps this was an old inn that the owner decided to expand as the business grew. Perhaps it was a town meeting hall that was expanded into a larger, multi-functional type of municipal building that served the town/city in an official capacity.

Whatever the back-story was, I finally had that unique-looking building that had that genuine "cobbled-together" medieval look!
">
">
">
">
...And HERE is the real moment of truth! A genuine closeup of my scratch-built filler work right up against the details of the original buildings:


">
">
As I said earlier, I was surprised that it looked as convincing as it does! I mean a trained modeling eye can still tell that something has been added to the existing buildings, it's not a perfect match. But for what I wanted to achieve it worked out as well as I could possibly expect!

More views of some of the additional details:
">
">
">
">
So I hope that sharing this conversion project will inspire you to try your own conversions on terrain and miniatures when you're building your armies and terrain for the 9th Age. I also hope that this inspires you to push yourself out of your comfort zone and attempt something that at first you might think is beyond your modeling skills. I CERTAINLY thought when I started this that I was way in over my head! I really had to follow through and finish it to prove myself wrong.

Happy modeling my friends!
There are many magic rings in the world Bilbo Baggins, and none of them should be used lightly!
The post was edited 2 times, last by Baranovich ().