Ok, this is my first time writing a list with one of the Auxiliary books. So if I have made a mistake somewhere by missing some if or but or coconut, please let me know asap.
I am very excited to try this army out, as Genghis
Khan
's hordes have a special place in my heart, so the opportunity to field my own version is too good to pass up.
Like all my other armies, I fully intend to convert/sculpt a fair whack of this army (because I am an idiotic glutton for punishment apparently...). But thankfully I have plenty of parts lying around already which should provide a great launching point.
Inspiration-wise, I am looking towards Magic the Gathering's Mardu tribe: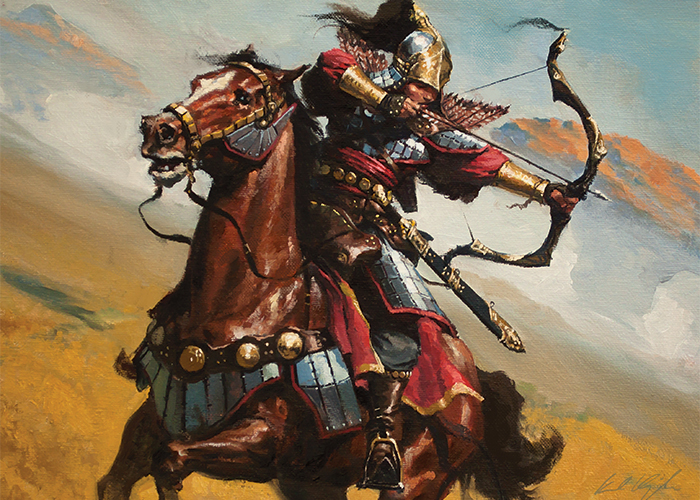 So expect some liberties to be taken from actual Mongol Horsemen (although the presence of a few mythical creatures should be enough of a hint anyway).
Now, onto the actual list:
Makhar Army 4500pts
Characters:

Makhar Gyula
, General,
Paired Weapons
,
Great Elk
, Stallion's Tempest, Mammoth Hide Cloak, Spirit of the Herd,
Potion of Swiftness
, Symbol of Slaughter 390points
Makhar Gyula
, Battle Standard,
Death Cheater
,
Shield
,
Light Lance
, Black Steed, Prized Stallion 355points
Enaree
,
Shamanism
,
Wizard Master
, Black Steed, Prized Stallion,
Binding Scroll
460points
Core:
2x8 Horse Archers
270points
1x19 Makhar Lancers,
Musician
,
Champion
,
Standard Bearer
,
Shields
, Makhar
Lance
,
Banner of Speed
592points
1x18 Makhar Lancers,
Musician
,
Champion
,
Standard Bearer
,
Shields
, Makhar
Lance
,
Banner of Speed
569points
Special:
2x2 Makhar Chariot
,
Vanguard
, Recurve
Bow
&
Light Lance
335points
2x1 Turul
, Wings 245points
Steppe Mammoth
, 430points
The first thing I wanted to do when I saw this army was to centre it with some big blocks of aggressive
cavalry
. While the units themselves lack the punch on their own, the characters providing copious buffs should help. Not to mention the combat power of the Gyula, who comes in with an eye-watering 7 agil8 attacks on the charge, with
Hatred
and
Battle Focus
. Perfect for blending units into oblivion. (The
potion of swiftness
is a bit excessive. But I had 10 points leftover, so go figure)
The mage either hides in a
horse
archer unit or hides out of the way (like behind a big monster or a hill), firing off buff spells to keep troops alive or running interference with totemic summons.
The
horse
archers and chariots run ranged interference, picking off
chaff
and possibly charging it away as well.
The Turul are glorified
chaff
/
war machine
hunters. They also do a good job as meat
shields
from unfriendly fire. Their ability to jump out of impassable looked interesting, but I would rather keep them cheap for the job I plan for them.
And lastly the Mammoth is an extra heavy-hitter. Designed to help push alongside one of my big
cavalry
units.
Fingers crossed I will have time to proxy this next weekend...