Exploring the world of the Ninth Age
__________________________________
The Ninth Age Presents: Art Contest III!
Makhar
The theme for this competition is:
Makhar
, the horselords.
Roaming across the wind-blown steppe with many prized horses and vast herds to feed their wagon-borne families, the Makhar tribes are born horsemen who begin to ride as soon as they can walk. Masters of the recurve bow, these hardy folks must fight, outwit and endure great hardships to survive and prosper in their scarce lands. To the soft men and women of civilized countries, these steppe warriors are mounted terrors who strike like lightning and fight like devils, carrying off booty and prisoners in their merciless raids and leaving burnt settlements behind. Any attempt to pin down these swift raiders and face the Makhar on the battlefield is more often than not an exercise in frustration, for the Makhar know well that the cunning ways of the mounted archer may overcome the largest of tribal armies, the fiercest of monsters and the best of realms' hosts.
For untold thousands of years the steppes of Augea have bred riders and warriors of the first order. Legends tell of more ancient days, when the Hobgoblin wolf riders were ascendant, yet the Human horse riders rose to dominance and still rule the wide steppes north of the Sea of Gods. These tribes are ever fractious and warlike, and ever coalescing around strong leaders and victorious warrior groups; and ever splintering as unity ruptures.
The winners seem to take it all on the steppe, where success breed success as warriors flock to the victorious banner and drink from the skulls of their defeated foes, yet fortune is fickle and the terrible might of Makhar warlords is ever fragile. Fearsome horde confederacies that terrorize the surrounding lands, and extort massive tribute from city-dwellers and farmers in between devastating invasions, do not last many centuries as the strongest of leadership is doomed to fray and unravel in the cut-throat world of Makhar Gyula chiefs' power struggle. For the lot of the migratory steppe peoples is one of infighting, in an endless cycle of tribal feuds and cattle raids that gave rise to the martial prowess of these riders in the first place.
Yet the Makhar's traditional way of life was changed forever in the Eighth Age, when the Wasteland came to be. Grazing lands were lost in the catastrophe, and tribes fell upon tribes in a chain of violent desperation. Men turned to the Dark Gods, and the Dark Gods answered their call...
We want you to draw or paint something involving the Makhar! See their
supplementary army book
for more details on these feared horsemen. Makhar art could include anything from portraits to battle scenes; from glimpses of everyday life (herdsmen, yurts, bowyers, carts, bound slave captives) to dark Enaree rituals. There are lots of exotic features to the Makhar army, ranging from two-handed
kontos
lances, through archer giants, to chariots and
catapult
-bearing Steppe Mammoths. The sky is the limit as long as the artwork involve Makhar in some way, even if only as battle casualties at the hands of your favourite faction. Unleash your imagination!
This can be done by drawing, sketching or painting it (i.e.
no
miniature entries). Digital tools are allowed, and some scribblings as seen on many concept sketches are likewise allowed, but please keep any text amount low. The amount of work invested in the art entry can vary from a simple sketch up to a full-blown illustration. Flat embroidered textile art (e.g. in Bayeux tapestry style) close-up shots and flat relief carvings are allowed, but for these materials you're encouraged to ask the contest organizer first with some details explaining your plans. Tattoos are allowed. Note that several different art pieces are allowed to be included in one and the same image file entry, e.g. two different painted illustrations, or a bunch of sketches leading up to an inked drawing. Sheer mass is no guarantee for advantage in voting, however.
If you are unsure if your entry will fit the subject matter, then please contact
Karak Norn Clansman
and he'll sort it out with you and the staff.
Prizes
The gold winner will recieve one unpainted 28mm resin kit of
War Booty Slaves of Ancient Times
to haul off to the steppe: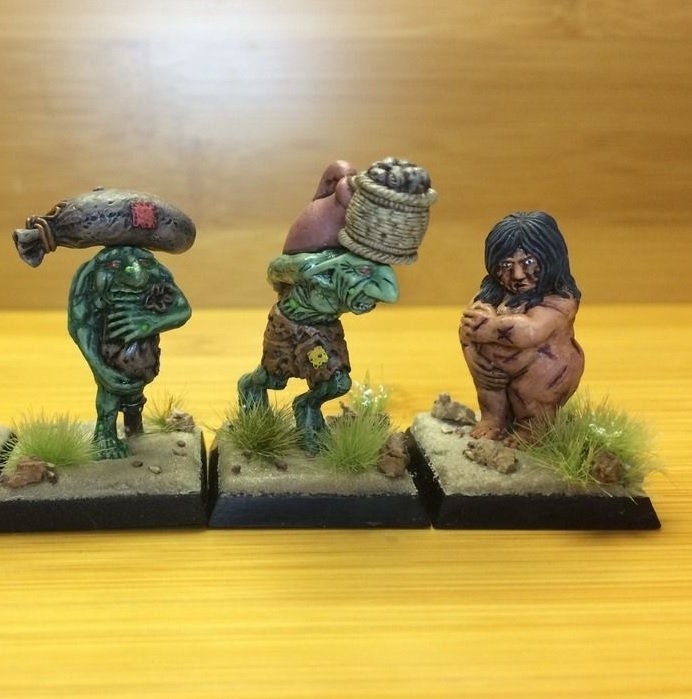 Furthermore, the silver winner will receive one 28mm kit of 10 unpainted
Ceramics of Ancient Times
for liqour to pour into those skull cups: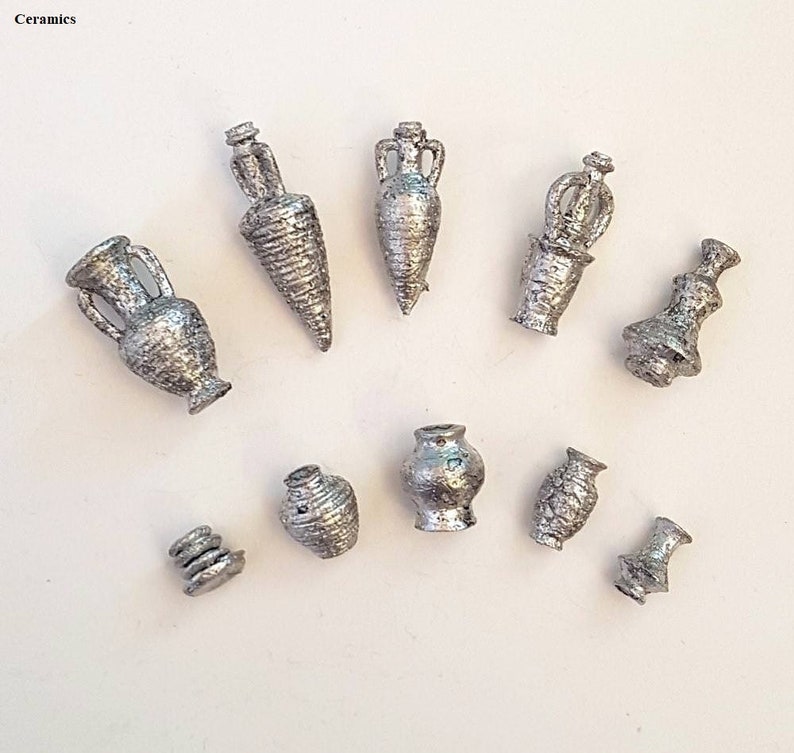 And the bronze winner will receive one 15mm kit of 4 unpainted
Tjubling Skull Masks
, sculpted by Tobias "tjub" Torstensson: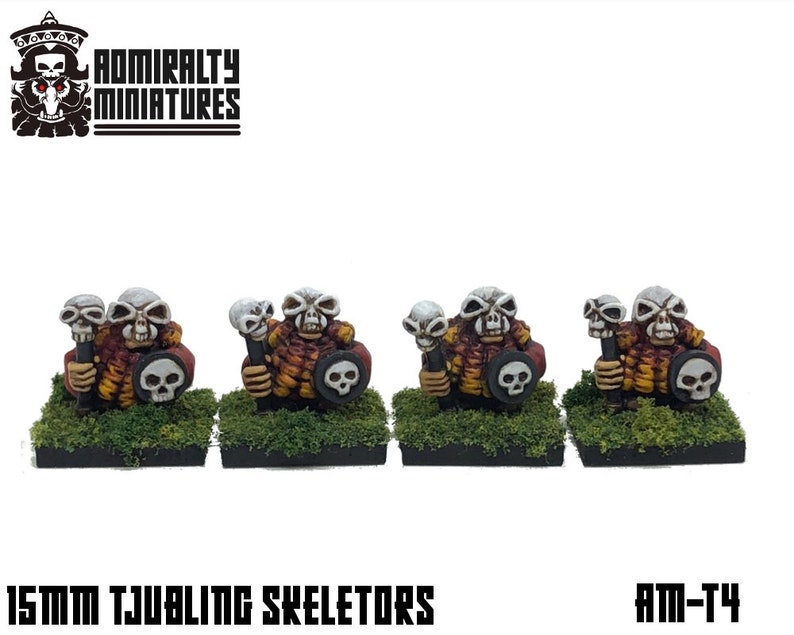 Should you wish to donate a prize to this or future contests, please PM
Henrypmiller
.
Deadline
The deadline for the submission of entries is the
12th of January 2020 at 11:59pm CET.
Rules of the Competition
Each member may only enter once.
Sketch, draw, paint and use digital tools to come up with artwork or concept image(s) for the contest theme. No crossovers with very different settings are allowed.
Submissions should include one picture file only. Your one picture file with art may contain any number of objects, figures and scenes.
You may not submit a picture of a drawing or painting that has been entered into other online competitions or posted in a finished state before.
Don't post your entries in the forum before the contest is over.
By entering this contest, you are granting us a world wide irrevocable license to use the artwork in connection with the T9A project. The copyright remains with the artist.
No big watermarks overlaid on the artwork, particularly in the centre of an image.
See also the General Rules & Guidelines:
How to Enter?
Unlock full membership by posting twice on the forum. Submit your entry by uploading 1 single image file to an image hosting site such as
Imgur
or
T9A Gallery
, and then
submit the image
in a PM to the contest organizer. You may contact him to instead have your file sent via E-mail, should some transfer trouble occur with your upload. Please do not send an e-mail to any of the admin or staff accounts as this is a surefire way to have your entry missed.
How will this be judged?
Sometime after the due date we will post a voting thread and attach a poll. All T9A users can then rank the entries.
Good luck everyone!
T9A Team