I'm looking to site my
DH
/
ID
army, which runs on alternative/parallel fluff, but fights in the ninth age world. Whilst Covid means I'm only playing on
UB
, I'm building a real world dwarf army and I plan to dual use it for Infernal Dwarfs too. I'm basing it on
DH
models
so traditional fantasy dwarfs is the aesthetic - no mutations, deadlock beards or weird bull fetishes. I'm hoping some information might already exist to help with what I'm after, so I'm requesting signposting to relevant sources I could read.
@Ghiznuk
@Karak Norn Clansman
@Henrypmiller
- can you guys help at all? If there's an absence of existing fluff then I'll go ahead anyway as it's my army so I can imagine whatever narrative I choose :D. I've no intention of this being considered or incorporated into canon, but I'd like to have as much internal consistency as possible (within the constraints of my inherently apocryphal approach).
Questions:
I'm looking at using the Barren Mountains, as a mid-point geographically between the Hold and Infernal Dwarfs. Is there any information about the barren mountains?

When did the Infernal Dwarfs create the inferno? Were they still considered 'the same' as Hold Dwarfs back then, or had they already diverged (e.g. language, culture)

I need to add photos of my models so I can swap them out for minis I've found on the internet to illustrate my text...

@Little Joe - I've got some model selection conundrums too (see below for style) - any suggestions for the following:
slaves

vassal cavalry/conjurer (mounted)

Here's what I'm considering so far:
Origins of Nevaz Twin Peaks in the Barren Mountains
(drawing on both Nekoshim and Hittite dwarf pages for inspiration):
Nekoshim: Dwarven Holds of the Copper Mountains (T9A Nabateans)
https://www.the-ninth-age.com/community/index.php?thread/46076-infernal-dwarves-of-the-barren-mountains-t9a-hittites/
Not Vetian Dwarves, but descending from ancient Eastern Dwarf stock which fled the ravages of the Inferno and settled in the Barren Mountains. They retained the ancient language and customs of the pre-Inferno dwarfs - valuing tradition, loyalty and steadfastness, slow to adapt to both modern engineering (flying machines), magics or "fire-banding" (Kadims). They worship the ancestors and the old gods and have little time for Ashurak, Shamut and their like. As such, their armies are truly dwarven in nature, with throngs of
infantry
warriors
defending their adopted homeland, supported only by traditional
artillery
and their runic heritage. [In game terms Hold armies tend to forego copters and grudge busters, and infernal armies forego
slaves
, bulls, Kadims, Giants and Trains]. Long-established, the Hold has forged relationships with local petty kingdoms who march to war alongside their allies ("vassals" - asklander/viking types, which fit the dwarf aesthetic nicely).
But times change, even for this ancient lineage. Over recent centuries, with demonic incursions adding to greenskin waves, ratmen sappers and ogre expansions, and a rise in Infernal nationalism, the hold has suffered many hardships. To combat these, some dwarfs have looked to the East and studied magics of metallurgy and fire ("not
occultism
"). Engineers have constructed mechanical dragons ("grudge busters/infernal engines").
Miners
have dug deep in search of minerals, eking out what little they can from the barren lands and discovered elementals of earth and fire, who's power the clan's smiths have
harnessed
("Kadim"). In turn, this has led to new inventions by the clan's runic engineers and smiths ("gunnery teams"). Some dwarfs have even taken
mounts
("enforcers/vassal cav")! This young, innovative faction is gaining
ground
, politically and within civil society, as it proves itself in commerce and on the battlefield. While so far secure from external threats, the future of Nevaz Twin Peaks has never been more uncertain.
Models:
King/Overlord
King
on throne -
GW
Skull Pass Lord on raised base with gunner and
infantry
champions as throne bearers (I've got this built, based and basecoated).
King
on foot/
overlord
- various
GW
dwarf champions/kitbashes, or this cool DND mini by chainmail - I've got this built but not painted)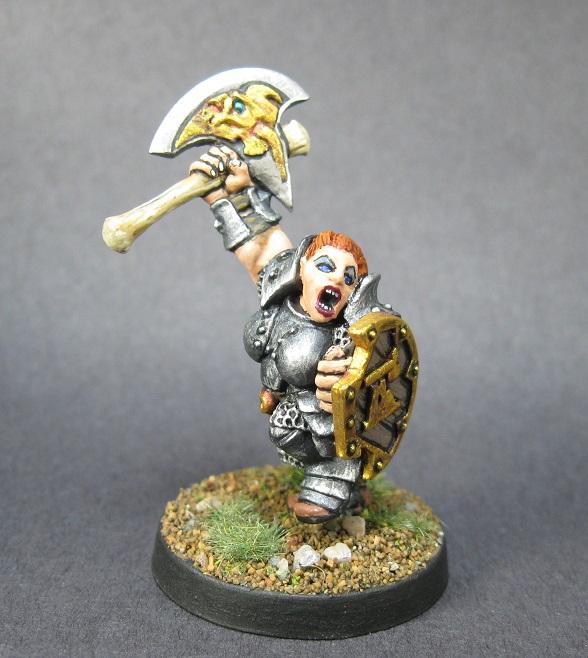 Thane/Vizier BSB
On shieldbearers - unit bannerman kitbashed, astride a UK 1penny piece, carried aloft by a
GW
BoSP clansman and the trusty gunner
champion
(who uniquely has his right hand raised) - I have this built, based and painted.
For on foot/
ID
version, I've got this
model
and I've stripped it...but I'm a bit daunted by all the detail on it!
Runic Smith/Prophet:
Classic
GW
metal runesmiths and a kitbash conversion - all stripped and built ready for painting
Engineer
This guy from BoSP - I've got him painted to tabletop
standard
from when I got it
Dragon Seeker - absent from army
Taurok Commissioner - absent from army
Vassal Conjurer (witchcraft)
Mounted - I don't know what I'd use at the moment...probably depends on what
models
I end up using for vassal cav, so that he's in-keeping.
On foot - I have this
model
, just need to paint him
Clan Warriors/Greybeards/Infernal Warriors (Hand Weapon + Shield):
I've got these guys painted, just need to base them.
Clan Warriors with Spears/Citadel Guard with Pistols and Spears:
GW
Dwarf
warriors
conversions, with
goblin
spears pinned on - I've done the conversions and some are painted - need to finish painting and base. I'm also adding shoulder pads to make them more armoured so that they fit better for the Infernal options.
Marksmen (handguns)/Infernal Warriors (Blunderbuss)/Citadel Guard (Flintlock Axe)
GW
BoSP
handguns
, converted to flintlocks by adding an axe head or to blunderbusses by adding - I kid you not - mushrooms to the muzzles. I'm also adding shoulder pads to make them more armoured so that they fit better for the Infernal options.
Based on the
models
below - I'm working my way through the conversions.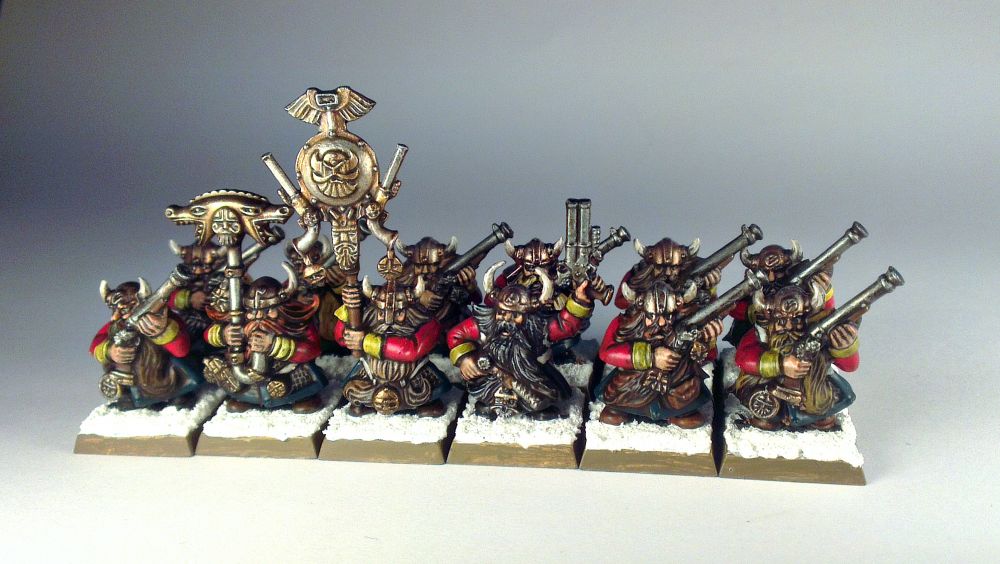 Vassals
:
I've got boxes full of vikings from when I was thinking of starting some sort of historicals - will give me an excuse to paint them.
Slaves:
They don't really fit the fluff of the army, but even if they did, I'm at a loss as to what would be suitable
models
. The big issue for me is that they're big - on 25mm bases. I also feel they're basically there as ammo carriers - it's almost like I'd want a unit of these guys
Grudge Busters/Infernal Engines:
I have both of these, I'm just holding off painting them til I get an airbrush as I think it will make it a lot quicker and cleaner for all those big areas of metallics. I'll use footprint adjusters for the bases and will magnetise the feet accordingly.
Kadim Incarnates/Hold Guardians
- these are going super cheap, reckon I'll snap some up, do some converting and paint them like lava - jobs a good un.
Kadim Chariot:
I've built two of these DND Chbainmail Mordenguard Stone Spikes, and they will pull a Mantic abyssal dwarf
slave
driver
chariot
. If I can get hold of a
GW
Magmadroth rider cheap (or indeed almost any
GW
Fyreslayer) they'd make decent riders.
Vassal Cavalry:
I quite like these, but boy are they expensive! I might just go with marauder horesmen as I have some and can get more cheap...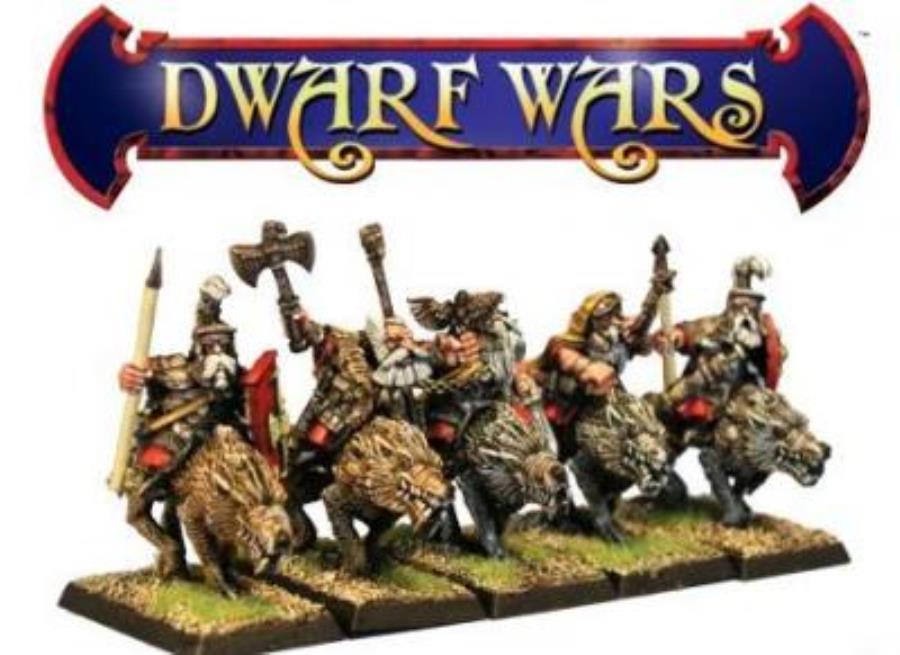 Taurock Enforcers:
Same company do these bad boys...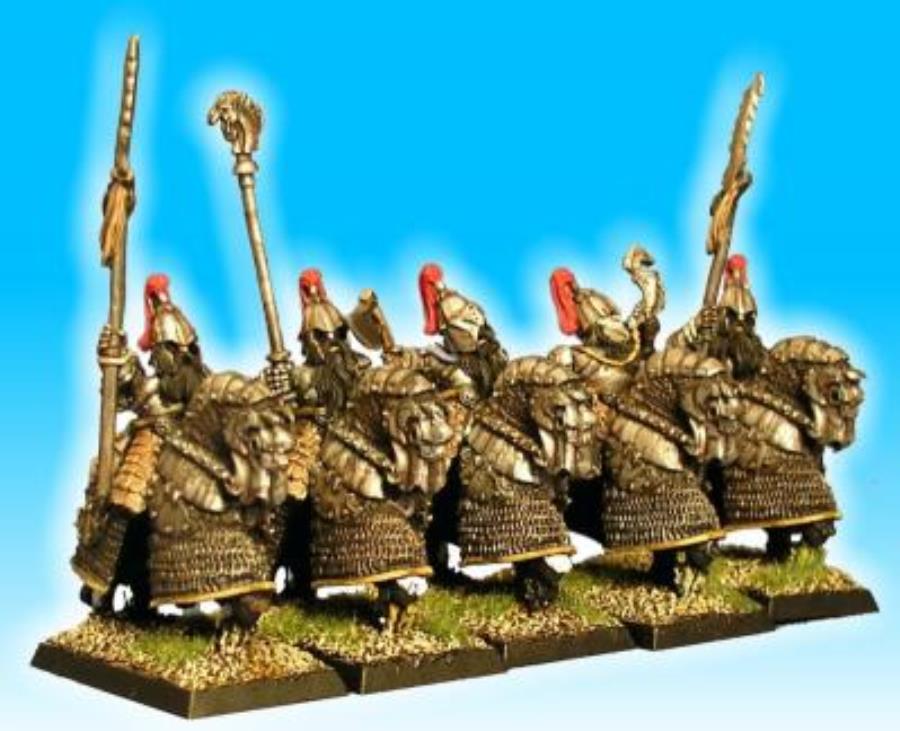 Deep Watch/Immortals with Infernal Weapon:
- I'm working my way through painting these up...
King's Guard/Immortals with Great Weapon:
- I'm working my way through painting these up...
Tower/King on Throne:
I'd love to get this, but it's super expensive...not sure on alternatives...
Kadim Titan:
Bought and built - just need to paint.
Giants
:
I'm after something that just looks like a big dwarf...
I'd want to headswap, but this guy conveniently brings a second tower
shield
to convert for another.
This guy fits the bill nicely...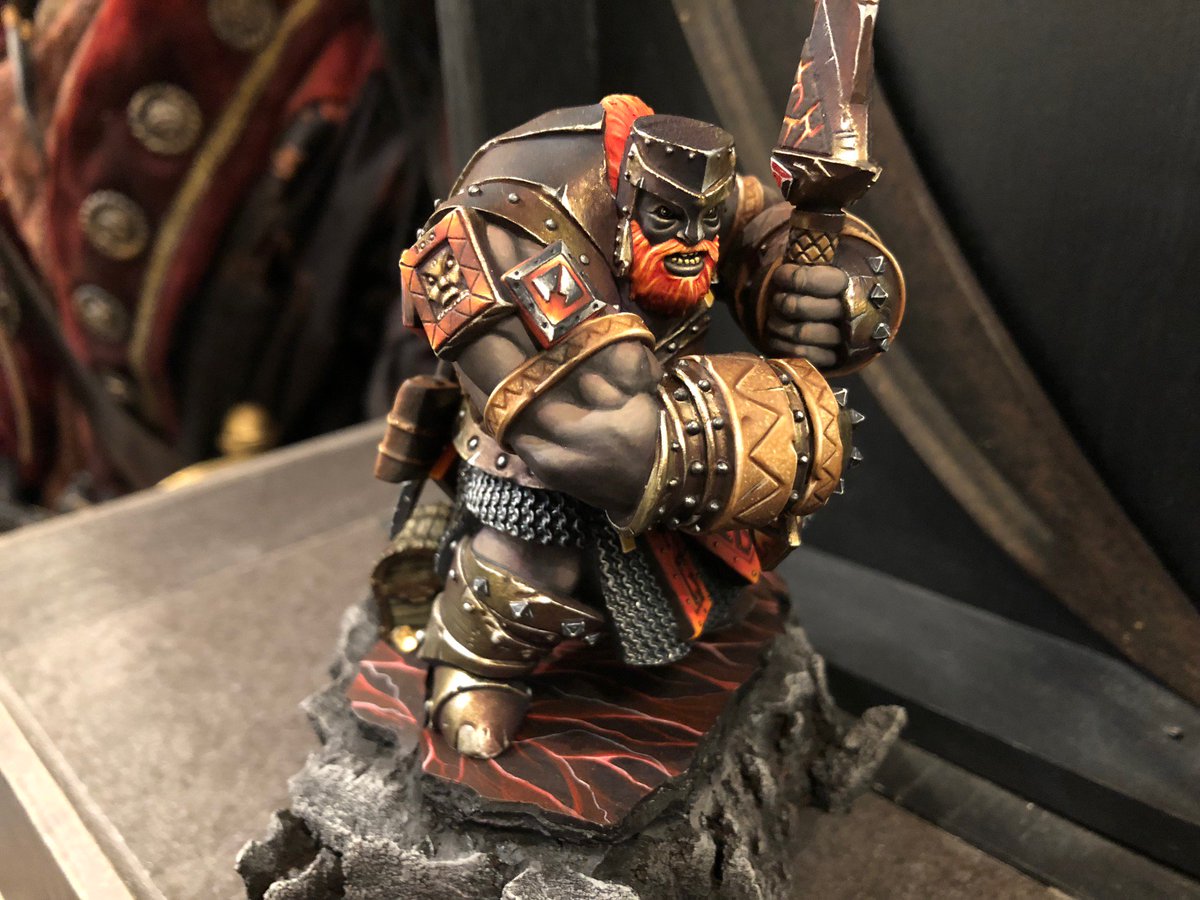 The post was edited 1 time, last by ferny ().