A Miniatures Library page dedicated to miniatures options for the Essence of War Patrols.

Patrols are pre-made rosters from each faction in The 9th Age world, specially designed for playing your first games in The 9th Age using the Essence of War Basic rules.

However, these Patrols proved to be so much fun in playtesting, that even highly experienced 9th Age players enjoy collecting and painting various EoW Patrols and using the EoW Basic rules as a way to play a really fast & fun game with any faction - and it's a great way to get started on a new faction too!
Please note that T9A: Essence of War is currently in Alpha & is in open playtesting from the entire community, so these Patrols cannot be considered as final. Please join in and play and discuss the open playtesting here:
Essence of War - Discussion

If you have a suggestion for this page, see:
Essence of War Patrols: Workbench - model collecting, building and work in progress

For a photo Gallery of suitable models painted by T9A players, see:
Essence of War - Picture Gallery





========================================








Beast Herds




Labmasu Store
Gore Tribe - Beast Herd Patrol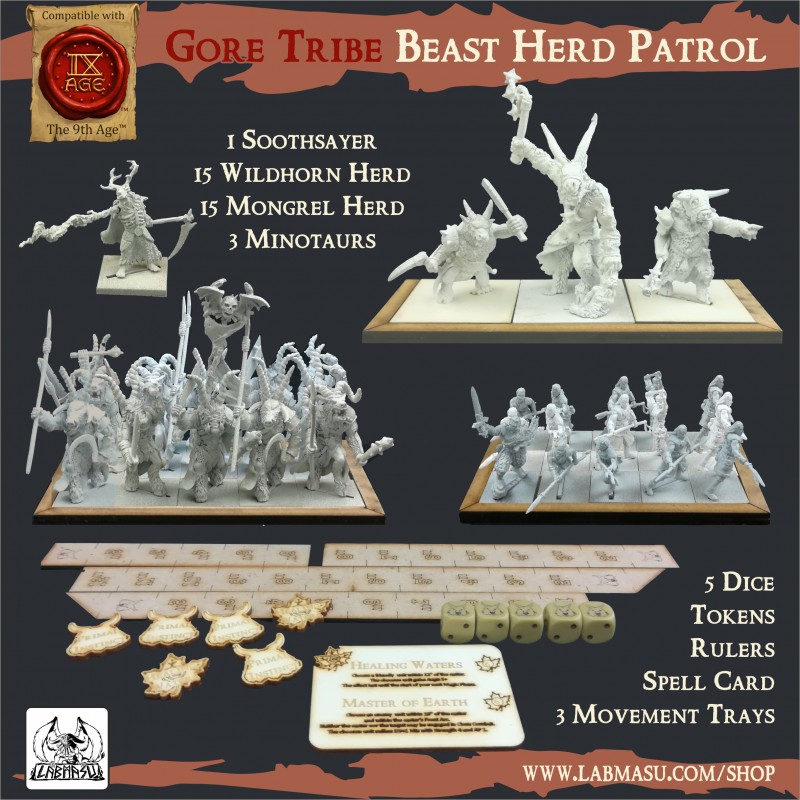 Also includes movement trays, custom dice, tokens, rulers & spell card
Scale: 28mm
Material: Metal

Alternatively see the individual Miniature Library listings for:
Soothsayer
Wildhorn Herd
Mongrel Herd
Minotaurs






----------------------------------------








Dwarvern Holds




Two Idiots Printing Service



See Two Idiots Printing Service supports The 9th Age for more information about this supporting company.

Essence of War: Dwarvern Holds


"If you purchase this deal and actively contribute to the project by writing a battle report and posting it in this thread (and emailing us with proof of such), we are offering a 10% off code that can be used on anything in our webstore."
Scale: 28mm
Material: Resin

Alternatively see the individual Miniature Library listings for:
Thane
Clan Marksmen
Greybeards
Hold Guardians





----------------------------------------








Empire of Sonnstahl




Two Idiots Printing Service



See Two Idiots Printing Service supports The 9th Age for more information about this supporting company.

Essence of War: Empire of Sonnstahl


"If you purchase this deal and actively contribute to the project by writing a battle report and posting it in this thread (and emailing us with proof of such), we are offering a 10% off code that can be used on anything in our webstore."
Scale: 28mm
Material: Resin

Alternatively see the individual Miniature Library listings for:
Wizard
Handgunners
Electoral Cavalry
Imperial Guard





----------------------------------------








Kingdom of Equitaine




Weird Farm Miniatures
Kingdom of Equitaine - Essence of War Patrol

Scale: 32mm
Material: Resin

Alternatively see the individual Miniature Library listings for:
Damsel
Knights Aspirant
Peasant Bowmen
Knights of the Quest





----------------------------------------








Ogre Khans




Weird Farm Miniatures
Ogre Khans - Essence of War Patrol

Scale: 32mm
Material: Resin

Alternatively see the individual Miniature Library listings for:
Shaman
Tribesmen
Scraplings
Bombardiers





----------------------------------------








Undying Dynasties




Two Idiots Printing Service



See Two Idiots Printing Service supports The 9th Age for more information about this supporting company.

Essence of War: Undying Dynasties


"If you purchase this deal and actively contribute to the project by writing a battle report and posting it in this thread (and emailing us with proof of such), we are offering a 10% off code that can be used on anything in our webstore."
Scale: 28mm
Material: Resin

Alternatively see the individual Miniature Library listings for:
Death Cult Hierarch
Skeleton Archers
Skeleton Chariots
Shabtis





----------------------------------------








Vampire Covenant




Weird Farm Miniatures
Vampire Covenant - Essence of War Patrol

Scale: 32mm
Material: Resin

Alternatively see the individual Miniature Library listings for:
Vampire Courtier
Zombies
Ghouls
Spectral Hunters