Dear Community,
The Ninth Age is a rich universe, benefitting from a complex and deeply satisfying ruleset for fantasy rank-and-files battles. We are proud of our work and appreciate the rich interaction we have every day with players from all over the world. It's natural that we want to share the fruits of our thinking and tinkering with the wargamers community at
large
. In order to reach additional players, in the last months we have been working relentlessly towards the release of a simplified ruleset which, in our opinion, will be lean enough to incentivize new players to join our ranks. This ruleset, which is a rework of the old QuickStarter booklet, will also offer to experienced players the possibility of playing fast but challenging games concentrated on a smaller scale, with armies between 800 and 2500pts.
As it is a new document which will be released, we took the opportunity to rebrand our introductory ruleset. The chance to associate the community was too good to pass, and we asked your opinion about which name to choose. We wanted something that emphasises the fast nature of these simplified games, but also something that can excite new players with a feeling of immersion and grandeur. We proposed a list of names for your consideration in a widely attended Community Poll, and we thank you again for your participation.
From the short list which emerged from our votes, we had to make the ultimate choice. One of the candidate names that were presented in the poll had been mentioned repeatedly to present a risk of confusion with another game system, so we excluded it in favour of another popular choice. We value very much your opinion and, with our thanks to have highlighted and help avoided a possible problem, we are happy to oblige and pick up this excellent choice, which we are confident will please many in the community. Thanks to your decisive help, the new simplified game will be known as "Essence of War".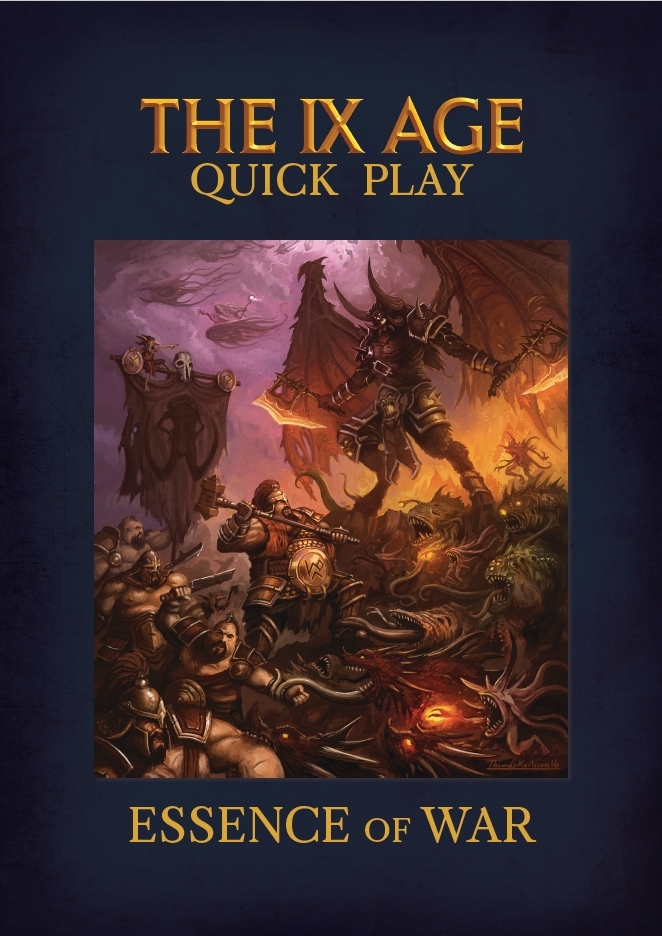 As you notice, this name appears on the
cover
of our upcoming rulebook together with another name: "Quick Play". This will be the name of the overarching game system, allowing extensions to be considered in due time. "Quick Play" is thus the equivalent of "Fantasy Battles". This will help us keep things tidy in the tree-structure of the documents produced by the Project, and it will also emphasise the fast and fun and easy nature of the ruleset, right from page one.
We will soon update the forum sections and the team members tags with the new name "Essence of War" (EoW). We hope you will get used to and like the new name, but more importantly we truly hope you will like the content of the new book. In the next days, you will see plenty of spoilers and teasers for the book to come. As always, we count on your qualified (and polite!) feedback on the work we have done, so we can keep further improving the quality of our products.
Thank you again for your participation and see you on the – smaller - battlefield!
Piteglio and the EoW team